SHARON EILEEN SMITH
Sharon Smith is presently a self-employed ceramic artist who resides in Austin, Texas. She has been acknowledged with numerous awards for her work, including participating as an artist in residence at the Resen Ceramic Colony in Macedonia in 1997 and receiving a National Endowment for the Arts Fellowship Award in Crafts in 1995. In 1976 she received her Bachelors of Fine Arts with Highest Honors from the University of Texas in Austin. In 1979 she completed her Masters of Art in Raku Ceramics from the University of Dallas in Irving, Texas. She has taught art at all levels (kindergarten through university) in Texas and Germany. She has conducted numerous teachers workshops for instructors in the art field. In addition, Sharon has taught ceramics, drawing, fabrics, Raku handbuilding and firing, and art history at the university level.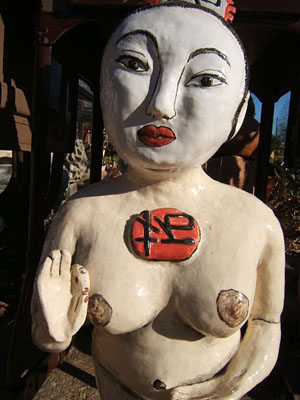 Excerpt from Material Christianity
Religion and Popular Culture in America
by Colleen McDannell
copyright 1995
"Sharon Smith sees a direct connection between her spirituality and the altars she builds for gallery exhibits. While she was raised in a non-religious home and is not a member of any religious community, she understands her shrines as spiritual explorations of pain, guilt, joy, and laughter. Through her shrines she seeks to break down the common cultural boundaries between art, institutional religion, and individual spirituality. For her, sculpture and altar, kitsch and art, seriousness and frivolity, personal story and collective myth all blend together. Smith seeks to shock the viewer and create conversation. Presenting her own experience is more important than any type of pious communication with the celestial sphere, but her shrine building raises the personal to a higher, more meaningful, level."