The Wheel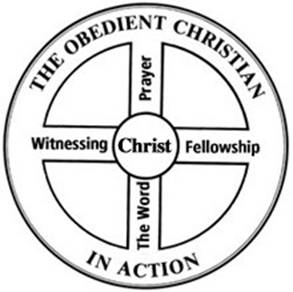 One of the best illustrations I know that shows how a "well rounded" Christian should appear to the world is the wheel. The world sees Christ through the Christian's life. If that life is not properly arranged then the "Wheel" is not round.
The Christian gets his or her power from the Hub. The power of Christ is then transmitted through the "Spokes" of the Christian's life to where that person interacts with the world. If any one of the "Spokes" of the wheel are short or long in relationship to the other a distorted view of the Hub comes into existence as the Christian goes through life. If the "Wheel is not round it will not transverse the "highway of life" in a smooth manner. What is worse is that these unbalanced aspects cause the Hub (Christ the Center) to vibrate up and down, creating a distorted view of Christ for those who are observing.
The Hub – Christ the Center
Colossians 1:27 To them God has chosen to make known among the Gentiles the glorious riches of this mystery, which is Christ in you, the hope of glory.

John 15:5 I am the vine; you are the branches. If a man remains in me and I in him, he will bear much fruit; apart from me you can do nothing.

Galatians 2:20 I have been crucified with Christ and I no longer live, but Christ lives in me. The life I live in the body, I live by faith in the Son of God, who loved me and gave himself for me.
The Spokes
The Vertical
Prayer
Matthew 7:7 "Ask and it will be given to you; seek and you will find; knock and the door will be opened to you.

Philippians 4:6-7 Do not be anxious about anything, but in everything, by prayer and petition, with thanksgiving, present your requests to God. And the peace of God, which transcends all understanding, will guard your hearts and your minds in Christ Jesus.

John 15:7 If you remain in me and my words remain in you, ask whatever you wish, and it will be given you.
The Word
1 Peter 2:2 Like newborn babies, crave pure spiritual milk, so that by it you may grow up in your salvation,

Joshua 1:8 Do not let this Book of the Law depart from your mouth; meditate on it day and night, so that you may be careful to do everything written in it. Then you will be prosperous and successful.

2 Timothy 3:16-17 All Scripture is God-breathed and is useful for teaching, rebuking, correcting and training in righteousness, so that the man of God may be thoroughly equipped for every good work.
The Horizontal
Fellowship
Matthew 18:20 For where two or three come together in my name, there am I with them."

Hebrew 10:24-25 And let us consider how we may spur one another on toward love and good deeds. Let us not give up meeting together, as some are in the habit of doing, but let us encourage one another -- and all the more as you see the Day approaching.

I John 1:3 We proclaim to you what we have seen and heard, so that you also may have fellowship with us. And our fellowship is with the Father and with his Son, Jesus Christ.
Witnessing
Matthew 4:19 "Come, follow me," Jesus said, "and I will make you fishers of men."

Romans 1:16 I am not ashamed of the gospel, because it is the power of God for the salvation of everyone who believes: first for the Jew, then for the Gentile.

1 Peter 3:15 But in your hearts set apart Christ as Lord. Always be prepared to give an answer to everyone who asks you to give the reason for the hope that you have. But do this with gentleness and respect,
Obedience to Christ
John 14:21 Whoever has my commands and obeys them, he is the one who loves me. He who loves me will be loved by my Father, and I too will love him and show myself to him."

Rom 12:1-2 Therefore, I urge you, brothers, in view of God's mercy, to offer your bodies as living sacrifices, holy and pleasing to God -- this is your spiritual act of worship. Do not conform any longer to the pattern of this world, but be transformed by the renewing of your mind. Then you will be able to test and approve what God's will is-- his good, pleasing and perfect will.

Luke 6:46 "Why do you call me, `Lord, Lord,' and do not do what I say?
All verses are from the NIV translation.